Joanna Button, a.k.a. "Jojo" has been in the restaurant industry for the majority of her working career. She said that in the back of her mind, she's always wanted to own a restaurant. Then, in 2012, her dream came true when there was an opportunity to purchase a restaurant and the couple decided to go for it!

It was a smart decision. Jojo's Restaurant & Tap House now has over 600 Google Reviews and is rated 4.5/5 stars. They're known for being "liked by vegans" on Yelp and Joanna says they like those vegans right back!

​​​​​​​When asked what contributes to their ongoing success, Joanna said, "We offer a little something for everyone here, from a laid-back tap house atmosphere to a more upscale dining room experience. Having options is important to bring people in, but we think that our awesome staff combined with great food and drinks is what really keeps guests coming back."
We agree. Jojo's is one of those rare, versatile establishments where you could enjoy a drink and relax, bring clients for a delicious meal, or go all-in with a big group celebration in the semi-private back dining room. The atmosphere is perfect regardless of your scenario because they have the option of the tap house (right side), the semi-casual dining room (left side), or that private event space in the back. The food is always tasty and the drink options are endless.
"If we were ever going to open a restaurant, it was definitely going to be in Frederick." – Joanna Button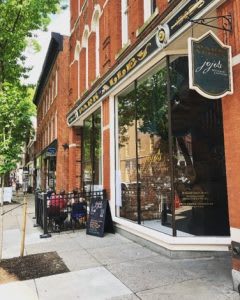 ​​​​​​​Frederick was an Easy Choice
For Joanna, choosing to open a restaurant in Frederick was an easy choice. She's a Frederick native and is taken back when she thinks about how much the area has grown since she was a kid. She remembers a lot of fields and cow pastures that are now neighborhoods and commercial buildings.

Joanna worked at several other restaurants in the area, too. She said, "We love all that Frederick has to offer, and when it comes to the Historic downtown area, there is always something happening. It's a great draw for locals and tourists alike."

When asked about the best part of Frederick, she eagerly states, "The community!"

"Downtown Frederick is a very community-oriented place where people from all backgrounds can come together to shop, eat, drink, and play. It's great to own a business in a place where other businesses and people are so supportive of each other."

​​​​​​​Besides the obvious recommendation of eating at Jojo's, Joanna suggests that out-of-towners walk around the historic district and take a stroll down the creek. "There is so much history in the area. When you add in the scenery, shops, and restaurants, you could really make a nice day out of exploring downtown."
MD Tap Takeover at Jojo's Restaurant & Taphouse
Want to check out Jojo's for yourself? Come on in Thursday, May 9th, they are planning a Maryland Tap Takeover to kick off the Maryland Craft Beer Festival (May 11th on Carroll Creek). All 26 taps will have a Maryland craft beer of some sort. In the tap house, guests will receive $1 off all drafts after 7 pm, and possibly a chance to win a little something extra!